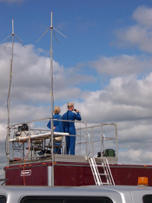 Claude Spears Sound
Claude Spears - Airshow Sound



Literally, a Rocket Scientist . . . Claude Spears brings to the event arena an uncompromising enthusiasm and commitment for both aviation and technology. Having been employed by Rockwell Collins for more than thirty years, his experience and dedication make Airshow Sound, the 'sound ' choice in meeting your event presentation requirements.


With the latest technology in Airshow Sound Production, and the capability and equipment to provide quality sound throughout the entire crowd area, a team of experienced sound technicians ensure the ultimate sound experience for performers, media, spectators, sponsors and exhibitors.


Whether challenges require multi-rowed speakers, sound delays, mile long crowd lines, or lack of power at show center, the fully self contained package of Airshow Sound should be your number #1 choice.
Upon contracting Airshow Sound, take advantage of many additional state-of-the-art package opportunities to include;

Raised Announcer & Airboss Platform

Megawatt Generators

Self-powered System

WAVES System Digital Wireless Links

6,000 ft. Speaker Coverage
(grass or concrete)

Long Range Wireless Microphone System

IPAD/IPOD Interface

Bose Speakers for V.I.P. Area

Delays & Remotes to Time Align Speakers

VHF Walkie Talkies

Performer to Aircraft PA Interface

UHF & VHF Radios & Antennas

FM Broadcasting

Real Time Show Center Weather

Screen & Computer for Briefings