Bob Richards grew up in Valparaiso, Indiana, watching airshows and flying remote controlled models. He is a graduate of the Purdue University Flight Program, where he received his first aerobatic training in a DeHavilland Chipmunk in 1992.

Bob flew his first biplane in 2003 and performed his first airshow in 2006.

Bob is a certified motorcycle mechanic and now lives near Chicago, IL. Bob raced street motorcycles for over 10 years, winning expert series regional and national championship road races in Yamaha, Kawasaki and Suzuki motorcycles.

Bob had flown a stock 180 hp Pitts S1S in airshows for 10 seasons, accumulating thousands of hours in that aircraft, before purchasing and performing in his custom built single place Pitts with more power, different wings and a three bladed propeller. Bob's desire for more power was realized when he acquired 'Machaira', a custom built aircraft, producing 325 hp, previously owned by expert designer, builder and airshow performer Doug Dodge.

Bob Looks forward to dazzling airshow attendees and aviation enthusiasts with the unique, high-energy performance of 'Machaira' - 'Machaira, named for the Greek word meaning two-edged sword.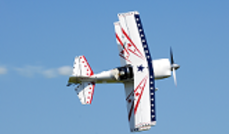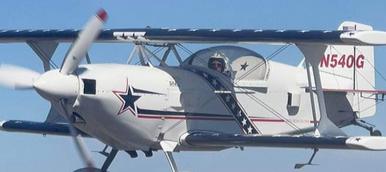 Bob Richards 'Machaira'

​

​