Susan Dacy 'Big Red'
​

​



​

A Salute to the Golden Age of Aviation . . .

Step back in time as Susan Dacy puts her 450 horsepower, Super Stearman, 'Big Red' through its paces with a dazzling display of barrel rolls, slow, slow rolls, Cuban eights, hammerhead turns, loops and much more, in a style reminiscent of the barnstorming era of flying.

Susan Dacy

Susan is one of only a few females performing airshows in a biplane, and is the only woman flying exhibition in the Super Stearman. Attending airshows as a child, Susan remembers being in awe of the big, loud, smoky biplanes. As a teenager, yearning to fly, Susan felt the only way to fly a Stearman was to have one of her own. At the family airport, located inHarvard, Illinois, Susan worked in the office, fueled planes, and eventually acquired a rebuildable Stearman Project. While in high school, every spare hour was spent restoring the aircraft, which she still owns and operates today.

At sixteen Susan learned to fly in a Piper Cub (her Stearman wasn't yet ready). She attended Southern IllinoisUniversity, where she earned a degree in Aviation Operations and Systems, along with aircraft mechanic's licenses. Following college, Susan pursued flying jobs throughout the country. Scurrying cancelled checks before midnight deadlines in twin engine airplanes, flying for commuter airlines, and even pipeline patrol was eventually rewarded with a job offer from American Airlines. Susan is a Chicago based International Captain, currently flying 787 Dreamliner. Susan has flown more than sixty different types of aircraft, and has logged more than 35,000 hours.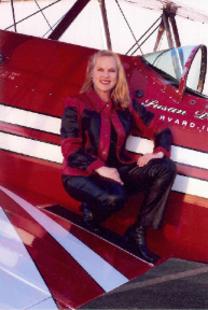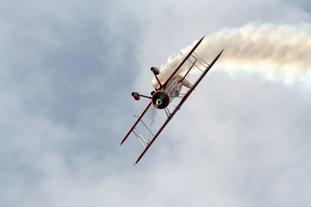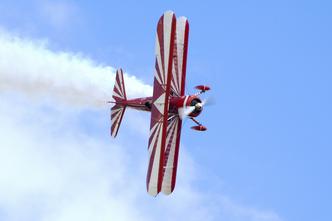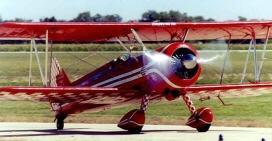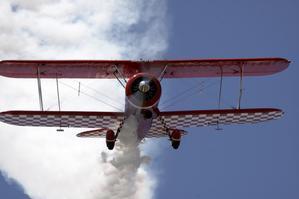 Big Red

Big Red started life as a World War II trainer for young naval aviators. Originally powered by a 220 h.p. engine, Big Red is now outfitted with a powerful Pratt & Whitney 450 h.p., supercharged engine. With injected fuel systems, and inverted fuel and oil modifications, Big Red is 'at home' both right side up and upside down. Other additions to the aircraft include a canopy, wingtip strobes, lights, modern radios and removal of the front cockpit to make room for the inverted fuel system, and environmentally safe airshow smoke. Weighing in at over a ton, Big Red has a wing span of thirty two feet, and is more than twenty five feet long.